Pictures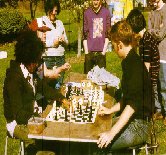 This is the site of the Hampshire College Chess Club in Amherst, MA.


If you are new to Hampshire or chess and would like to be informed about chess at Hampshire or in the Valley join the Hampshire Chess Club email list.


---
Pioneer Valley Chess Club
---
US Chess Federation
---
Mass Chess Assoc.
---
Bill Wall's Excellent Chess Resource Page
---
The Chess Lab
---
UMass Chess Club
---
Amherst College Chess
---
W. Mass Chess Links
---
Play Chess on Yahoo!